Valdosta prom party bus, North Florida South Georgia's largest limousine and charter bus provider. With over 35 limousines and charter buses to choose from... So whether you're trying to move or shuttle one person or 500 people we can handle the task. We are the proudest fleet in North Florida and South Georgia with the finest vehicles.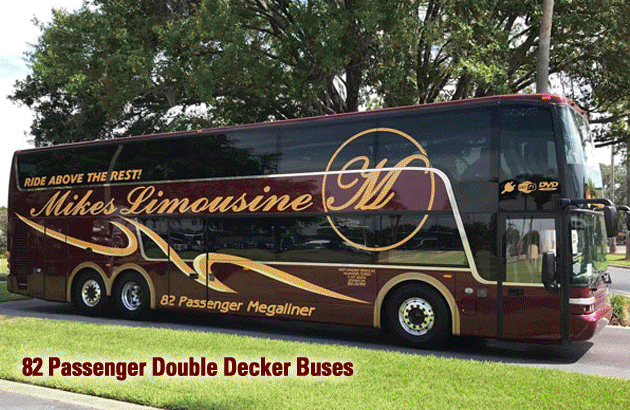 Mike's Limousine would like to introduce our NEW DOUBLE DECKER BUS to Valdosta, this is a one of a kind transportation giant. This mega bus seats 82 passengers and has all the comforts you would expect in a luxury motorcoach. This premier double decker bus can transport a large group economically and efficiently. Imagine traveling from Tallahassee to your destination in comfort and style, with a magnificent view from this double decker one of a kind motorcoach. Call 850-251-6453 for details.
Our newest Deluxe 36 Passenger MCI F3500 Motor Coaches... perfect for small group transportation. Our top-of-the-line motor coach has DVD, 4TVs, stereo, large viewing windows, leg room, ample cargo room, rest room... full-size coach comfort at a lesser cost.
Limo and Party Bus Quotes & Reservations Call or Text – Ted: 850-933-6683
Party or Charter Bus Quotes Call or Text – Mike: 850-251-6453

---
Mike's Limousine is your first stop for all you prom limos, prom limobusses - we have the coolest prom party busses in the Valdosta South Georgia region.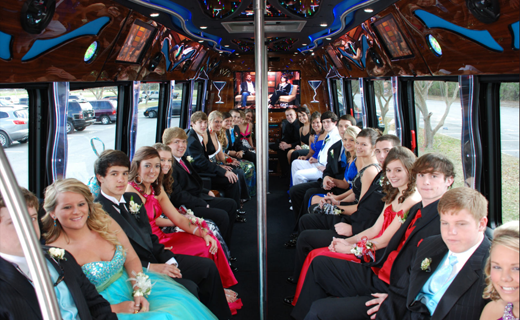 ---
NEW EXECUTIVE 56 passenger motorcoach
Our Newest member of the fleet... NEW EXECUTIVE 56 passenger motorcoach. We now have the largest capacity transportation charter bus serving Valdosta!
---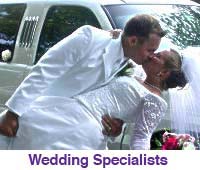 You could take a whole group of Valdosta bridesmaids and groomsmen to the wedding!! Click here to view all of our wedding limousines, party buses, and limo buses...and don't forget to plan your bachelor or bachelorette party around a limo. *(All alcholic beverages provided by the client)
Call us at 850-224-LIMO (5466) to check out our weding and other specials and custom made packages tailored for your individual needs.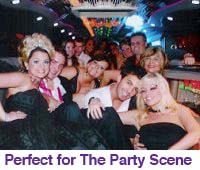 Call to get more information about Mike's Limousine service for party busses, prom limos, corporate events, weddings and other special events. Whether you want to ride in style around town or to an exotic Florida destination, call
Mike's Limousine.
A Valdosta South Georgia limousine provider. Our goal is to make every occasion special. We have the finest limousines in the southeast, and we are fully licensed and insured. More than anything else, our mission is to provide five-star service at an affordable price.
We can make your event a memorable experience that you will remember for a lifetime..
Mike's Limousine Prom Party Bus,Prom Limo Bus Charter Bus Service, Tallahassee, Jacksonville, Gainesville, Orlando, Panama City Florida. Valdosta Georgia, Thomasville Georgia, Dothan Alabama, With locations in the following towns.
Mike's Limousine Service Tallahassee
3109 West Tenneessee Street
Tallahassee, FL 32304

Mike's Limousine, Charter, Party, Limo Bus Service Jacksonville
855 St. Johns Bluff Rd.
Craig Field Airport
Jacksonville, FL 32225
(Between Aiken Avenue and Bartram Road)

Mike's limousine, Party Bus, Limo Bus, Charter Bus of Gainesville
5745 SW 75th St.
Gainesville, FL 32601

Mike's Limousine, Charter Bus, Party Bus, Limo Bus Service Valdosta
4443-B Bemiss Rd
Valdosta, GA 31605

Mike's Limousine Party Bus And Party Bus Rental Orlando
241 South Forth St.
Lake Mary, FL 32746
Mike's Limousine Party Charter Limo Prom Buses of Panama City Florida
322 South Burkett Dr.
Panama City, FL 32404
We also serve...
Charter a Bus in Tallahassee
Charter a Limo in Tallahassee
Charter a Bus in Fort Walton Beach, Florida
Charter a Bus in Destin, Florida
Charter a Bus in Tampa, Florida
Charter a Bus in Panama City, Forida
Charter a Bus in Gainesville, Forida
Charter a Bus in Orlando, Florida
Charter a Bus in Jacksonville, Florida
Charter a Bus in Dothan, Alabama
Charter a Bus in Albany, Georgia
Charter a Bus in Macon, Georgia
Charter a Bus in Valdosta, Georgia
Charter a Bus in Atlanta, Georgia

Rent a Limo Birmingham Alabama Party buses
Rent a Limo Mobile Alabama Party buses
Rent a Limo Montgomery Alabama Party buses
Rent a Limo Memphis Tennessee Party buses
Rent a Limo Pensacola Florida Party bus